Penncrest High School
Biographies S-Z
Sandra Singer Rigby
Update October 2007
In May 2005 I moved back to the Media area to be close to my family. I am currently working for a large Philadelphia law firm. Having made the choice to travel while "young" I am not retiring for a couple more years. I have reconnected with many old friends and have become involved in many local projects. I am working with Tish, Becky, Sandy and Rick to keep the information on the class of 63 current and plan for our next event. I was recently asked to join the Rose Tree Media Alumni Association as they are compiling information & materials (I am not kidding they even have old school jackets and uniforms) on former Media High School and Penncrest High School students. Stay tuned for news of our Reunion 45! I can be reached at P.O. Box 228, Moylan, PA 19065-0228; Tel: 610.874.1619 (home); 610.513.8031 (cell) or 215.981.4577 (work). My email is sandrarigby@aol.com. Please keep in touch.
Older
Three years after graduation from Penncrest I was married and in 1969 my son Bill Rigby was born. Unfortunately it did not take long for my husband and I to realize that we still had a lot to learn about ourselves and life and in 1974 we decided to divorce. I immediately went back to college and obtained my CLA (Certified Legal Assistant) from Widener College and then graduated from Penn State with a degree in Criminal Justice. Immediately after Penn State I worked at a small law firm in Media and was briefly involved in local politics. But after only a couple years of Media and its politics, I left to work for a large Philadelphia law firm where I remained for 13 years before relocating to South Florida in 1990. I am presently working in Fort Lauderdale, Florida doing medical malpractice defense work. The legal profession has been very good to me and my career has been very interesting. Over the past 20 years I have taken several post graduate courses and legal courses while playing with the idea of going to law school. That idea however, has long passed. My focus now is on the big "R" for Retirement. My son and his wife Kelly are both home grown talents and graduates of Penncrest High School. After graduation from Penncrest Billy served in the USMC and drove a tank in Desert Storm. The time Billy spend in the Gulf was the most difficult of my life; I never dreamed that in 1990 I would be sending my son to war. Billy and Kelly have blessed me with two beautiful granddaughters, Abigail Grace and Olivia Kathleen, ages 4 and 2 months respectively. Billy a General Contractor, just recently restored a 1930's era house in Middletown Township and it looks like they will be sending their girls to Penncrest.
My very significant other, Fred Dunn and I live at Doral in Miami. Our house is located on the 11th tee of the Gold Course and with that in mind, you would think that I finally have a good golf game. Wrong, it is woeful! But armed with my new "Biggest Big Bertha" I have high hopes. We recently sold our week-end home in the Florida Keys and are now searching for that magical spot for our "retirement." We spend our leisure time, when we can find some, antiquing, golfing, traveling, attending sporting events, collecting old cars or curled up with a good book. I am a serious collector of antiques with an emphasis on china and depression glassware and enjoy searching out precious treasures in shops and barns from Maine to Malibu. My dream of owning a Bed and Breakfast with an antique shop attached is being considered for retirement years. I have been very fortunate since graduation and in addition to fulfilling my "yearbook dream" of visiting Hawaii several times, I have had the opportunity of seeing a great deal of this wonderful world of ours. I have fulfilled my girlhood dreams of adventure during my travels via rail through Europe, antiquated steam trains in China, hollowed out long boat canoes in Thailand, hot air ballooning through the Blackhills and many other adventures in places I discovered in my Geography classes at Penncrest. I still go home to "Media" several times each year and always take that drive down State Street
just to make sure it is still there.
My plans for the reunion are incomplete at this writing, but I am holding an airline reservation to come home just in case I can make it at the last minute. I check the Internet regularly for reunion updates and enjoy reading the bios. I agree with Jay that we should compile a list of addresses and e-mail addresses after the reunion so that we can get in touch with those class members who have been out of our reach for so long.
My address is 5711 N.W. 100 Court, Doral Pines, Miami, FL 33178. Tel 305-592-0094 home and
954-764-7150 work email sandyr@bchlm-pa.com
I would love to hear from some old class members and if you get to South Florida, give us a call.
Hugh Smith
Born in Hartford, Ct. 1945 and raised alternately in Tampa, Fl. and Philadelphia.
Poet in Residence (University of Colorado) and freelance photojournalist for Philadelphia Bulletin. Freelance photography for FBI, Burns Detective Agency. Commercial Photographer shooting catalogs and models for clients such as Lenox China, Spencer Gifts, RCA Camden and Beryllium Corporation.
I have had several radio shows including talk radio and, most recently, Internet radio.
Ordained Foursquare minister and pastor and music director for several denominations including Church of Christ, United Methodist and Foursquare Gospel Church. He has written and recorded several musical pieces with Loren Sandford and Geoff Guyett.
Family counselor in private practice and Elijah House Ministries and Grace Ministries. Writer for various non-denominational magazines including Ministries Today. I haves been a circuit speaker and national healing ministry throughout the U.S.
Simultaneously produced educational seminars on home schooling in Washington State and Idaho and Coding and Medical Billing Seminars throughout the U.S. Founder of Medical Management Services installing and supporting medical management procedures for medical practices. I was the largest Value Added Reseller (VAR) and software supporter in the U.S. for Lytec Medical Software.
Founder of MicroMed Sciences, Inc. a complimentary clinic in North Carolina featuring Vital Hematology and Embedded Speech Pathologies.
My expertise in blood morphology has been used by many clinics and physcians including Dr. Robert Atkins, Dr. Thom Lodi, Dr. Patrick Fratellone and others.
Hugh and Diana Hughes founded Healthwalk in 2002 in Sacramento, Ca. I developed and continue to develop innovative supplements that address specific issues based on blood observations of thousands of clients over the last 25 years. Coined the phrase Vital Hematology to accurately describe the study of living blood. These products include the HydroMag Charger, AdaptAid and ReGenesys.
I am the co-founder of Healthwalk Clinics in Carlsbad, Ca.
ReGenesys and AdaptAid are the direct result of my research stemming from my ex-wife's bout with MS from late 1977. Today, she is fully recovered from the infection and living a normal healthy life. (MS is an neurological disorder caused by Borrelia burgdorferi).
My writing today covers the fields of nutrition, photography, travel, archery and fishing. He continues to conduct training seminars and lectures throughout the U.S. I am currently working on several books including an historical novel. His photographs have been published in Camera 35, Camera Suisse and others and hangs in several museums and permanent private collections.
Although, I will never retire, I am slowing my workload to devote more time to photography.
I visited Penncrest a few years back and it sure brought back old memories. I was glad to see the field named after Mr. Scott but saddened to hear of those we lost, not only Mr. Scott, but Faye Smith, Marv Weibley and others. Thanks Sandy for the site.
Lynda Smith Allanach
I have enjoyed a most interesting (to me) 35 years -- can it really be that long? Married to an Army Corps of Engineers officer (and long-time helicopter pilot) since October 1965, Bill and I have lived in 22 residences and have just about completed raising our family! After surviving the Vietnam era, when Bill flew choppers in Vietnam for two years and I played "waiting wife," we enjoyed living in such places as Tucson, Los Angeles, Washington D.C. area, Alabama, Kansas, Mississippi, Seoul, Korea, West Point, N.Y.(where Bill taught engineering at the Military Academy and I ran the American Red Cross for two years), and San Antonio (while there I completed my undergraduate degree in political science and had a two-year graduate fellowship at Trinity University, where I studied city planning/urban economics). I worked for a time for the City of San Antonio when Henry Cisneros was mayor, then for the U.S. Air Force as a Community Planner for the Base Civil Engineer at Kelly AFB. After relocating to Fort Worth in 1991, I worked for five years for a consulting engineering firm, doing comprehensive plans, including a major study in Reynosa, Tamaulipas, Mexico (if you've ever negotiated a contract in Spanish after a two-hour Mexican lunch you'll appreciate that effort). For the past three years I've worked at Dallas/Fort Worth International Airport on the Airport Development staff -- currently I am the program manager for a planned $680 million Automated People Mover project to interconnect the Central Terminal Area. My certification is with the American Institute of Certified Planners. Outside of work, I am on the board of directors of the Women's Center of Tarrant County, immediate past president of the League of Women Voters of Tarrant County, and current director on the board of directors of the League of Women Voters of Texas. And....the children.
Yes, Sandy, I'll try to keep this short. Our eldest daughter, Debbie (32), recently completed her graduate work at Harvard (MPA) and is a program director for the U.S. Centers for Disease Control in Washington. She is married and recently presented us with our first grandchild, adorable Ryan Boll. Son Will (29) works as an accountant and risk manager at an engineering firm in Fort Worth. He recently married a lovely and bright physical therapist named Juliet. The "baby" is Megan (21), who is about to graduate from Texas Tech University with a B.S. in Nursing. She'll marry a chemical engineer in January and settle in Houston. Bill and I have been truly blessed with three loving children who are serious about contributing to their respective communities -- truly credits to their parents.
We are planning our retirement now that Megan is about to leave the nest. In fact, next week we'll close on a gorgeous lake house in West Poland, Maine on the pristine Lake Thompson. It's in the Lakes Region of the state, just about 45 miles northwest of Portland. (A potential future reunion site???) We expect to use it for vacations and lease it out during the summer, but eventually we'll live there full time and escape to Texas and Virginia for visits when the "mud season" hits Maine.
I can hardly wait to hear from all of you. Since I'll be in Lubbock, Texas for "Parents' Weekend on 31 October, I'll wear a circle pin and my Penncrest class ring to commemorate the occasion of our reunion. My best for continued success to each of you. And thanks to the organizers who tracked all of us down!
Monica Snyder De Simone

If this is too long and boring, Sandy can edit me or just stop reading wherever you want and move on.

After graduating from Penncrest, I set off for Kutztown State Teacher's College. I was following in the footsteps of Carolyn Von Kleek, one of my many high school idols. Unfortunately, when I started attending Kutztown, she had moved on to the University of Delaware. Left to my own devices, I cut all of the education courses, such as "How to deport oneself at a PTA meeting" (I joke you not) and sparingly attended the academic courses.

I soon fell in with a band of political radicals, known at that time as beatniks. It was the tail-end of the beatnik era, Kerouac, coffee houses, Joan Baez, Dylan, Anti-war activity, were the order of the day...... the word "Hippie" hadn't been coined yet. J.Edgar had truly extensive resources, he was able to afford having us regularly followed up and down the main street of a Pennsylvania Dutch farming community by men in trench coats. To this day I find the expenditure on trench coats remarkable considering how much territory he had to cover. I'm pretty sure we were the smallest of fry, but they kept tabs on us all well into the '70s.

With not much of an academic record, I again followed my idol, Carolyn, to the Philadelphia Museum College of Art. She was very successful, moved on, and I continued to avoid fulfilling any kind of educational requirements that might lead to a degree or a career. Although, presto chango.... I was suddenly called a hippie instead of a beatnik. (I think the term was actually Dirty-Commie-Hippie, but hey!... that was for the general public we just called ourselves Freaks.)

One fond memory was the time I hitchhiked to Berkeley where Carolyn was by now teaching. She and her husband, Charles, and I got into a heated discussion. As former Philadelphians, they swore Rizzo would never be elected the mayor of Philadelphia. Hmmmm.... I visited for a bit in the Haight and then toured the country by "Thumb" and a $50 VW van. Laugh if you want but I still listen to Jerry religiously.

Post-Altamont I "dropped back in". I became a "Career Waitress", which has served me well over the years. Working in a high-end restaurant, a woman could single-handedly be a good provider. I can still remember being paid $.50 an hour while waiters were being paid $1.00 an hour. The obvious reasoning was that the men had families to support, when you pointed out that the waitresses were single-parents and the waiters were single-period the legitimate response was, "Well, those girls need to find husbands"....... Ah, the good old days.

The 70's brought marriage and a wonderful son. At that point in time I owned a small store and was partners in a second one just off South Street. Tropical plants and flowers, remnants of the "hippie" days. I lived my married life in South Philadelphia. There was a culture clash.

Widowed, I moved back to the suburbs to raise my son with a strong family support system. I was very fortunate, I never thought of myself as a single parent because my family was there for us 24-7. My hat is off to the women who raise children on their own, I don't think I could have done it.

When my son graduated from Penncrest, we cashed in our spare change jars, packed up his Honda Civic with cases of Ramen noodles, and off he went to the Rocky mountains to be a rock climbing, ski bum. He became an EMT, a white water river guide, white water rescue/first responder, graduated 2nd in his class in Ski Patrol, a search and rescue volunteer and studied back-country skiing in the French Alps. As well as being my pride and joy he is now a pastry chef (I have no idea why).

During the '80's and '90's I continued to try to find a niche, I waitresses, drove a truck, worked in retail, had a short-lived career as a computer support technician, played the market for a living (Yeah! those were the days), studied Mandarin (thought I might be a translator). At the present time I own a tractor-trailer and I have a title, "Marketing Director", for an educational publishing and consulting company. I also write contextual learning activities for high school students. Oddly, the activities focus on various jobs, we help students connect academics to the real world and choose a career. Ironic isn't it?

P.S. I don't know if this job will last. Are any of you hiring? and... Oh yes, I have a "Very Significant Other", he drives the tractor-trailer.
Sandy Sorkin
Having asked so many people for biographical information, I'm probably obligated to submit something as well-
January 28, 1998, my wife Kathy and I celebrated our 30th anniversary. We live in northern New Jersey because we have always been of the opinion that 100 miles is a good distance between ourselves and our families back in the Philadelphia area. We have one son, Charles, who works in New York City and lives nearby. He has been married for a little over 6 years to Lori who he met at the University of Pittsburgh.
The University of Pennsylvania, Wharton School followed Penncrest. After college I took a job in New York City with IBM World Trade that was followed by a stint with IBM in White Plains, NY. The 10 years after that were in the Pharmaceutical industry both in New York City and then in New Jersey. In 1978, with my son almost 9 years old, I started a software company. Currently our software is marketed through Coastal Technologies, consulting is done through Sanford M. Sorkin Associates, and on-site training is done through New Instruction, Inc.
Kathy's career is a little more interesting. She was a sweater designer for many years and her work has appeared in quite a few places. At one point she decided that there was a less than desirable compromise between commercial sweater design and other artistic undertakings that could have more social relevance. She continued as an artist until I desperately needed help in my business. Now she edits material for me and contributes pithy commentary. Her insights have improved every text I've written.
Getting away from the business side of my life-we live in Upper Montclair, a small community very close to New York City. In fact when people ask where we live, I'm prone to say New Jersey as quickly as Kathy says New York. It appears that we sleep in New Jersey and live in New York. We're told that our small house gives a museum appearance because of the numerous small collections in every room. A lot of books are stacked on the floors having overflowed the book cases and there is a wood burning parlor stove in the dining room. We seem to have accumulated a few prints in our travels (mostly 16th to 18th century), we enjoy tea and have removed most of the food from the kitchen to make room for tea pots, china cups and saucers. Outside, Kathy has created some beautiful flower gardens.
I find myself in book stores around the US and Canada, looking for first person sea journals. Most of my non-technical reading is centered around old sailing ships and voyages of exploration. We have always found it difficult to answer the question of, "What do you collect?" We seem to have a lot of small collections of "neat" things.
Back in 1976 there were dire news stories concerning red tide and the damage it was doing to the Atlantic ocean. This gave me the idea to take a vacation with my wife and son "down the shore." I was convinced that no one would be able to swim in the ocean again because of red tide. Today I can't imagine why. We were on Long Beach island a few days when a hurricane came and forced us to evacuate the island. This soured me on vacations for the next 18 years. Finally around 1995, I was convinced by my wife that vacations are a good idea and now we take them regularly as we try to make up for lost time. This is not to imply that we don't get anywhere. We travel for work just about every week. This has allowed us, but mostly me, to travel just about everywhere in the US and Canada. We even get to visit many places in the UK.
You can email me at sandy@coastaltech.com or sandy@penncrest.com.

On June 20, 2001, Kathy and I became grandparents for the first time. Her name is Emily Elizabeth and in this picture she is 1 day old.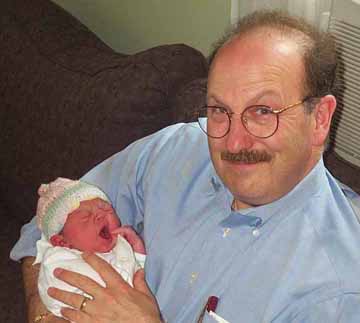 Linda Spencer Kaut

I have enjoyed every one of the newsletters that I have received in the past. It is nice to discover that my former classmates have been blessed with a great sense of humor. After all, if you cannot laugh at yourself who can you laugh at?



After I graduated from Penncrest I worked for a year and then finally realized that if you are going to get anywhere in this world you need more education. So I took a two year course at Peirce Junior College, graduated, and got a job with a stock brokerage house in Philly. While I was working in Philadelphia, I got married to Joseph Kaut, who is originally from Collingdale, PA, and have been married for thirty three years. We have two grown children, one of which lives with my husband and I with her five year old son, Justin. Being a grandparent is wonderful, but being able to love them and leave them is even better.

My son lives in Baltimore and is running work for a non union construction company. This with a degree in Elementary Education. We all know where the money is!
My husband, daughter and grandson along with myself all live in Norwood, PA. I have been working as a secretary at the local high school (Interboro High School, Prospect Park, PA), going on fifteen years. My boss, whose name also happens to be Paul Gibson, is the Assistant Principal of the 11th and 12th grade classes in the high school. This is sometimes a thankless job, but it also has rewards. as far as I know, all schools, as well as industry, seem to be going through some hard times lately. Because of who we are, and what we have lived through in the last year, we will make it through these trying times, but we will never be innocent again.
Jerry Stretch

In order to get off of Sorkin's hit list (or is it

_hit list)?,

I will update my bio as demanded.

Not a lot to change but it is now about 3 years more accurate which makes me unfortunately 3 years older.

I went to Widener U. and got an engineering degree and joined GE out of college.

GE positions took me to Texas (where I met my wife) for 8 years and then finally to heaven (Southern California) where I have lived since 1977.

About 11 years ago I went to work for Siemens Westinghouse Power Corporation selling complete power plants and yes it is a wonderful business (especially in California where I live).

I am now (as are each of you) pulling 50 with a long rope but still feel about 30.

I am still playing basketball (albeit not quite as good as at Penncrest is 1963) 4 to 5 days a week (when I am home).

I am playing full court with the young bucks and holding my own ( my own aching back that is).

I am still married to Diane (now almost 31 yrs.) who is a 2nd grade school teacher and next month to get her Masters degree in Education. You CAN teach an old dog (don't tell her that I referred to her in those words) new tricks. She is a great teacher and mother who has borne me four children who are all now legal drinking age (and frequently try to drink their father under the table but come up short each time). I learned how to drink the Penncrest way as did all of you sots.

My oldest daughter, Stacey is a beautiful blonde (27) who also teaches (3rd grade, deaf students). She is unmarried but came close a couple of years ago (it cost me $4000 before it was cancelled) and is on the prowl now. She is extremely social and has never met anyone that she doesn't immediately befriend. She would like to get married and start a family. My second child, Stephanie (26) is a lovely brunette that picked the right career path (web page design) and already owns a beachfront condo in Huntington Beach, CA and a new beamer. She is also unmarried and content to stay this way for a while longer. Her personality is so much like mine it is scary.

My oldest son, Chris is now employed in West Chester, PA at Sartomer Corp. and is in training to be a regional sales manager for the firm. He has the looks and bod that I (and Sorkin) always wanted. He has no problem attracting women and is just having fun and not in a hurry to settle down. My youngest, Eric is still in the entertainment business (boy band, No Authority) and is trying to replace a record company that just dropped the group due to being bought out by a larger entity. They have two albums on the racks at the local record stores. Whatever happens in his recording career, he can always say that he played the MGM Grand in Las Vegas on his 21st birthday (last month). It was a fun night. "No Authority"

I wonder how long Sorkin will let go with this update before he pesters me for another?
Janet Teel Foltz
What a great 39 years (not my age, unfortunately, just the number of years we've now been out of high school)!
Education and Work:
After high school, I got an Associates Degree from Goldey Beacom School of Business and went to work for DuPont (decided I'd work for them for 30 years and retire). Since I didn't like getting paid once a month, I left Du Pont and the great State of Delaware after two years and went to work for Scott Paper Company near the Phila. Airport. Loved working there full time and part time (while my children were very young) for nearly 30 years. After Scott became Kimberly Clark (and I didn't particularly want to move to Neenah, Wisconsin), I took my severance and ran.to Unisys Corporation in Blue Bell, PA. Loved working as a Contracts Manager in Global Procurement for this technology giant (mostly in Blue Bell and sometimes commuting to Washington, D.C.) but decided at age 55 "to smell the roses" - life is more than business travel, more money and more work!!!!
Family:
I met my future husband when he was on leave while stationed with the Air Force in Germany - I was a senior at Penncrest. While he was a little older than I was and would be gone for three years, we decided to stay friends and write to each other - I told my mother, "I'm only going to write to the guy - not marry him!" Famous last words.Adam Foltz and I married in September 1966. We've enjoyed 36 years of love and happiness (although everyone who knows us calls him "Poor Adam" for putting up with me all these years). We have two sons, Mark Adam (Shippensburg/93) and Daniel Richard (Kutztown/96). Both sons are married and Mark and Susan have given us a beautiful grandson, Mark, Jr. (April 2001). We've stayed in Pennsylvania and lived in Ridley Township for 11 years, Bethel Township for 24 years and now live in a 55+ Community (Traditions at Inniscone) on a golf course in London Grove Township for one year. Adam and I set a goal to retire when he turned 62 (the year I would turn 55) and we did just that! Adam worked for Boeing for 36 years. We love retirement, our summer place in Clermont NJ, and the camaraderie of close friends, family and neighbors. We're smellin' the roses!
Interests and Hobbies: Enjoying our boys as they grew up.

Board of Directors of Brandywine Youth Club; President of PTA; School Board Director, Garnet Valley School District (1990-1998) - Vice President (1991-1993), President (1993-1997).
Edward Tunaitis
After high school graduation, I attended RETS electronics school and then in 1965 joined the U. S. Air Force.
Susan and I married exactly five years after JFK was assassinated. The Vietnam war was in full swing and our home was a one bedroom trailer on Vandenberg Air Force Base, California. Whenever our trailer windows shook we ran outside and looked up at another Titan missile launch. At ground level we could feel the ongoing explosion behind the missile engines and at night see an orange exhaust often longer than the missile. As it traveled across the sky, we watched the stage separation fall into the Pacific ocean. The missile had passed through a theoretical "window in the sky." It was a successful launch and its command destruct receiver, one of the many that our Air Force crew calibrated, was not used.
My next assignment was on the island of Sardinia working in a mountain top communications site. The view was terrific during the summer. Often I would look down to see airplanes flying above the clouds. However, wintertime was horrible. High winds caused sideways icicles and being stranded for days was quite common. Susan and I rented an apartment in a village at the base of the mountain. In the two years we were there she paid the bills, did the grocery shopping and made many friends. I m proud to say that she became fluent in the Italian language. I was still making mistakes such as introducing her to someone as my underwear. The Italian words for wife and underwear have a similar sound.
After an assignment close to Plains, Georgia we were off again to Italy. This time I would work in a small communications site about an hour drive from Venice. In 1976 our son Michael was born. His Godfather and Godmother were very close Italian friends of ours. They adopted the three of us into their family. After three years we had to return to the States and parting was very difficult. We have fond memories and still write to them.
After living in Frankfurt, Germany; Istanbul, Turkey; Tripoli, Lybia; Reykjavik, Iceland and Valletta, Malta I finally retired in 1985 and bought my first house in Turnersville, New Jersey. Michael works as a computer network technician and Susan is a Legal secretary. For the past thirteen years, I've worked for Boekel Scientific in Philadelphia, Pa. repairing the medical equipment that they manufacture.
For many years I've been very involved in genealogy and tracing my family tree. Next year I'm traveling to Lithuania, the birthplace of all my grandparents, to meet my cousins and do some research. My E-mail is tunaitis@prodigy.net
Tish Turner
Great to hear from you. We have come a long way from home room, 1963!
The first 10 years I had 3 kids. Jeff, 32 lives in Detroit, was a national champion roller skater. Brett, 27 works for Lucent, one son Ricky, 5 no wife. Tisha, 26 recreational therapist at Beaumont Retirement, one son Brandon 6, new husband.
In 1973 my husband Dick Mayo died in a fire in our summer place near Rehobeth, Delaware. The kids were 1, 2 and 7 years old. I married again. It was difficult, divorced, raised the kids.
Got blood clots in my legs so had to give up hairdressing (had 4 shops). Built houses with my dad, sold real estate, and worked as a loan officer as a mortgage broker. Went through another housing crunch so I went back to hairdressing. I now have a shop in a retirement community in Bryn Mawr. One of my clients is Teddy Roosevelt III, I've done Jackie Kennedy's aunt, the Listerine, Sexton Foods, and Malox airs.
I've been rich, poor, rich, poor, average, pooor, and now doing o.k.!
For many years I have been a prison minister- Director of New Hope Ministry, mainly serving Delaware County Prison. I go every other Sunday evening for a service, I preach to them about how they can change their life. They actually don't know right from wrong. I've ministered to close to 10,000 men over the years, baptized at least 500, and had about 20 different men live in my home anywhere from a week to over 5 years. Drug addicts, forgers, woman abusers, terrorist threats, and murderers have all lived with me! I've fed them, clothed them, driven them everywhere, gotten them lawyers (even been called the "jailhouse lawyer" myself). I've fed their dogs and once transported $30,000 worth of coins (2 trips in my car so heavy) to hide under my bed for about 7 months while a guy was in jail. My dear friend George, killed 2 men and spent 10 years in San Quentin, but he lived with me on numerous occasions. This guy would scare all the others so no one would do anything to me!!
It's been wild and rewarding. The Lord works in mysterious ways! God bless you, see you on the 31st!
Doris Worrell Johnson
West Chester State College- University
1963-1967- B.A.- Liberal Arts and certified to teach English
'67-70- taught at Brookhaven Junior High- Related Studies- English, History and Geography
Married June '67 to Roland W. Johnson
Program Director, YWCA, Arden, Delaware, 1970-72
'73- first born- Dawn Marie Johnson
'75- second born- Brian Kent Johnson
'80-82- Administrative Assistant- Valley Forge Military Academy and College, Wayne, PA
'83-'84- Christian Education consultant, Diocese of Pennsylvania
'85-'87- Director of Education, Unionville Presbyterian Church, Unionville, PA.
'87-'96- Chaplain, Bryn Mawr Rehab
'88- earned Master of Arts and Religion, Lutheran Theological Seminary, Philadelphia, PA
'92- Certificate as Spiritual Director, Neumann College
'93-'94- Internship, chaplain, Presbyterian Hospital, Philadelphia, PA
'95- earned Master of Divinity, Lutheran Theological Seminary
'96- Aide Special Education, Radnor High School
'96- present- Instructor, Academic Assistance Center, Cheyney University
'96- ordained as independent clergy
'97- divorced after 27 years
Currently, am chaplain part-time at Bryn Mawr Rehab, instructor, Academic Assistance Center, Cheyney University and substitute teach in 7 local area school districts.
Instructor at Berks Technical Institute, Reading, PA
On-Call Chaplain at Reading Hospital, Reading, PA
Marjorie (Worrell) Plotts

Married right out of high school, to Raymond Plotts of Media, Pa. Who was a Nether Providence Police Officer, who rose through the ranks very quickly, 1965 I had our first son at Riddle hospital, I was a stay at home mother,1967 I gave birth to our second son, 1968 I gave birth to our third son, girls were really out of the picture, it seemed for us 1970 I was again at Riddle hospital giving birth, to this time a daughter, which I wouldn't believe until I took her diaper off and looked for myself. My husband became the Chief of Police of Nether Providence Township in Wallingford in 1968, where we lived until 1991. I worked as Director of Transportation for Wallingford Swarthmore School District for 19 years. We retired to Maryland in 1991, which we thought we would have a nice life together, My husband was the best anyone could ever ask for, he

was a good husband and a good father, My husband had a lot of major surgeries between 1991 and 1995, he recovered very nicely, On January 6, 1999 he had a stroke, he had another one two days later, on March 3, 1999 he passed away, which was the worst thing I have ever had to deal with, We were not only husband and wife but Ray was my best friend. It has been very very hard for me. I can not seem to get my life back together again. I guess some day I will get on with my life, but nothing seems interesting to me right now. The thing that keeps me going is I am raising my 14 year old grandson, which I have had since he was 6 months old, he keeps me young. He does very well in school almost an A student, got just one B. I have learned more from him then I did in school. He is a very smart young man. He wants to be a lawyer when he gets out of school, he has the brains for it. Well enough of this for now. I really enjoyed seeing everyone at the 37th reunion, We really had a good time. I wished more of our classmates had been there, life is so short. and it seems everyone turned out really swell. Thanks Rick and Darlene for a good time.
Updated on 12/11/12